Super Animal Royale Raising Funds for Service Dogs for Kids in Need!
Super Animal Royale and their super PAWsitive community are supporting Variety Petember to provide assistance dogs for kids in need for Variety - the Children's Charity. Take part by streaming or donating to unlock exclusive items this September.
Every Philanthropist Needs a Tux: Your Gift Unlocks Exclusive Super Animal Royale Items
Variety - the Children's Charity is excited to duo up with Super Animal Royale to raise funds and awareness for service dogs for kids in need this September! Show your support by signing up to host a charity stream yourself or donate to a Variety Super Animal Royale stream any time in September to access your exclusive Petember items including:
Variety Tuxedo
Variety Tophat
Variety Petember Umbrella

Petember is extra special because your participation raises funds and awareness for Assistance Dogs for kids in need, funded by Variety - the Children's Charity. These real life Super Dogs change the lives of kids living with autism, anxiety, and epilepsy.
Choosing to stream? That's the spirit, pup! Check out our event guide and assets below to help you on your way.
Wear Your Heart On Your...Head
Want to show your support to all the charity streamers and donors taking part in Petember? We've also created these gorgeous Variety Heart Antennae that anyone can redeem for free in-game in September to raise awareness for Variety Assistance Dogs for kids in need. Use the code PETEMBER to claim!

About Super Animal Royale
Super Animal Royale is a top-down multiplayer survival shooter for up to 64 adorably murderous Super Animals. Engineered to charm and trained to kill, Super Animals are cute enough to make you go "Aww" and deadly enough to make you go "Ahhhh!" Select your favorite from a menu of foxes, pandas, kitty cats, and other bloodthirsty beasts. Then, explore a beautiful 2D world while looting abandoned structures in search of the guns, explosives and health juice you'll need to reach the top of the food chain.
Sweet Streams are Made of This
From 1 - 30 September content creators will be streaming Super Animal Royale live all while raising funds for service dogs. Anyone can sign up to stream! Simply click the Tiltify link below to sign up. On sign up, you'll receive instructions and an event guide as well as a download link to overlays, alerts, talking points, images to share on socials and more to promote your stream! Want to watch and donate? All upcoming and live streams will be listed on the Tiltify event page and below.
Live Streams
Stream a little stream of me...
Thanks to the Super Animal Royale Content Creator Program for championing a howl of a cause.
You can find participating streamers who are live on our Tiltify page. And don't FURget: anyone can stream this Petember!
Resources
All You Need for the Superest Super Animal Royale Stream - click below to download broadcast assets including animated GIFs, overlays, videos and more PLUS promo tiles to hype your stream and our how-to guides.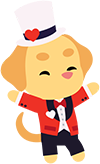 Animated GIFS, overlays, emotes, videos, fact sheets and more
Let's go! Share the amazing work you are doing on your socials
How to and FAQ! All your stream and fundraising questions answered
Your Impact
Your supPAWt makes a difference! Assistance Dogs give kids living with disability:
Independence
Dogs are trained to be tethered alongside kids with autism and sensory disorders. The dogs sit or lie down to anchor them, allowing safe visits near roads and other public areas and getting kids out and about in the community and taking part in day to day activities.
Confidence
Dogs provide companionship and a best friend for kids living with anxiety and other disorders. The dogs reassuring presence grows kids confidence to interact with their peers and form strong social connections, often for the very first time.
Anxiety Relief
Dogs can detect an oncoming anxiety attack in kids and intervene by nudging, applying contact pressure or licking to induce calm. These special dogs can even retrieve a parent or carer to provide assistance to their child.
...And Save Lives
Specially trained seizure alert dogs save lives. These highly trained animals can place their bodies next to a child having a seizure to prevent injury, remain with the child as a support and, most importantly, activate an alarm to alert parents and carers that a seizure is taking place.
FAQ
All your questions answered
I'm choosing to stream! How do I get started?
Sign up, set your challenge date anytime between 1 - 30 September and your stream format (24hr stream, 12hr stream, 1hr a day for September or a few hours on one day). Follow our handy guide to help you set up for your Tilitfy campign (check our resources above for download links). You can stream solo or as a team! Get your crew together to do a joint live stream (so you can get off the grind and have some time AFK) or go solo. 
How do I access the exclusive Super Animal Royale pack?
When you sign up to stream on our Super Animal Royale Petember event on Tiltify you will receive a registration email with your code.
Your donors will also receive a code to unlock their exclusive items. Variety will send them this code within 24 hours of their donation to your stream.
How do I show my support with the Variety Antennae?
The FREE Variety Heart Antennae will be available to activate in-game. The code will be released on the first day of Petember (that's 1st of September folks!)
Any more tips on running a successful charity stream?
Planning your stream
Set a length of time that suits you
24 hours can be a lot on your own, try for a shorter time or hook up with a friend or get a team together to tag out
Ask a moderator to help out
Gaming and chatting at the same time - including sharing links to your fundraising page regularly or letting your followers know about your incentives - can be tricky. Ask a friend to moderate for you!
Test before you stream
Make sure everything is working prior to your big go live date!
Plan your incentives, rewards and milestones
Whether you're colouring your hair or doing a giveaway (there are loads of ideas - check them out below) plan your incentives before your big day.
Reach out to companies
Let your fave stores to let them know you are  charity streaming for assistance dogs - you never know they may help promote it or help you out with giveaways!
Shout out loud
Let your friends, fam and followers know what you're doing on socials - build it up to your event day to launch with a bang!
Describe what you are doing and why
When filling out your campaign description make sure you include a summary of why your helping Variety and the difference you and your supporters are making
Set up overlays and alerts
Overlays and alerts will provide dynamic updates to your viewers as they donate. Learn how to set them up in our how to guide above.
When you're streaming
Repeat your message
People might tune in and out so make sure you shout out regularly in stream and in the comments why it's important to donate to support your cause. We've included some easy talking points in our how to guide to help out.
Thank and engage your supporters
While donations and comments are coming in, give your supporters a shout out to say thanks. And don't forget to do a follow up social post telling them how awesome they all are!
Keep everyone updated on your incentives and milestones
Remind people if you reach a goal or milestone you'll eat that chilli or giveaway that signed mousepad! This will keep your viewers engaged and encourage donations.
Take breaks
When you sign on to level up, we'll provide you with overlays including BRB screens so you can have a stretch, grab a glass of water or stock up on snacks!
Follow our community guidelines
Keep it friendly and fun and follow our community rules, remembering you're representing a children's chartiy
Here's an awesome thread from Twitch guru Aly Sweetman on Twitter with more how to's on your first charity stream!
I've donated but haven't received my code yet
Unfortunately Tiltify doesn't auto send code - the team at Variety will be sending daily emails to all new donors so expect to receive your code withing 24 hours of donating. Thanks so much for your support!
I donated to the event not an individual streamer - will I still get my code?
Yes! All of our wonderful donors who support kids in need by donating through the Tiltify Super Animal Royale home page or to individual streamers will all receive a code. Codes will be sent once a day by the Variety team so you should receive your code within 24 hours of donating - keep your eyes on your inbox!
Join the Super Animal Royale Community
#SARPetember